Robust dialogues for those who know the truth never hurts more than a lie.
Questions about SONNE and its specialties
NO BULLSHIT. WE FULLY ASSUME THE VALIDITY OF WHAT WE ARE AND KNOW.
Learn more about our pillars of action and why we transform organizations, brands and people from the inside out.
What is SONNE?
SONNE is a business consultancy focused on developing and implementing strategic planning.
What SONNE is NOT?
SONNE is:
– not an advertising agency or agency of publicity (whether on-line or off-line)
– not a live-marketing agency (for events, activation and brand experience)
– not a financial and auditing consultancy (finance, accounting, taxes)
– not an M&A consultancy (for mergers and acquisitions)
– not a turnaround consultancy (for financial recovery)
– not an executive search & replacement consultancy – (for outplacement and hiring of executives)
– not a human resources consultancy (for training, enablement and human resource development)
– not an architectural or business ambiance office
– not a market research institute
– not a graphic design and branding studio (for brand identity, packaging, graphic material)
It is worth mentioning that some of our specialties include services that are in fact related to companies in the sectors listed above but, since we consider some of these services to be strategic in nature, such services are part of SONNE's scope of work, as can be seen on our specialties page.
In addition, we have an extremely qualified and select range of partners who we recommend when we are requested to do so by our customers.
What are SONNE's credentials?
 The cornerstone and base of SONNE's credentials is the personal and professional trajectory of its founder and CEO, which can be viewed in his public profile on LINKEDIN – https://www.linkedin.com/in/maximilianotozzinibavaresco, complemented by the numbers highlighted on the "About" page of the website, and by interviews, articles and publications of case in the specialized media. But above and more important than all that, read the opinions and testimonials of SONNE's customers. And do not hesitate to talk to one or more SONNE customers; they are the best and most reliable source of information you can access.
What is the scope of SONNE's work?
The scope of SONNE's work covers eight fronts: strategy, management, design, marketing, knowledge, innovation, brand journey and brand experience, in addition to the implementation of strategic planning. The themes that pertain to each of these fronts are listed on the SONNE "specialties" page and can also be found in greater detail in the brochure available for download on this same page of our website.
Does SONNE develop projects with a scope of work involving other fronts and themes?
SONNE DOES NOT undertake projects with a scope of work involving other fronts and themes, such as: compliance, logistics, technology, governance, finance, among other excluded themes, unless they are listed on the "specialties" page of our website and detailed in the brochure available for download.
What differentials distinguish SONNE from other strategic planning consultancies?
SONNE's differentials compared to other strategic planning consultancies are: 
1 – We work in an agile and systemic manner through a proprietary concept and methodology called ABOVE ALL© which is represented graphically below. This allows our customers to centralize their decisions for all the strategic fronts under a single contract of engagement they can trust and rely on, and without conflicts of interest.  
2 –We implement what we plan, that is, we carry out and make the strategy and its consequences happen in practice until it impacts our clients and our clients' customers and consumers.
3 – We offer services suited to each business need and context presented on our "solutions" page for a much more attractive investment than what is charged by multinational consultancies. And we can share part of the risks and results at the conclusion of our projects.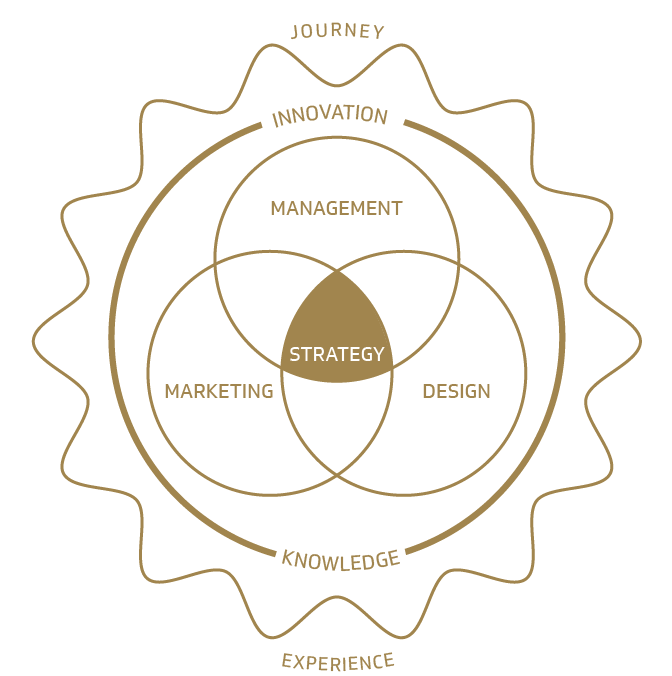 Is SONNE focused on a particular industry or market segment?
SONNE IS NOT focused on a specific industry or segment. Its specialties are universal, vital and inherent to any company, and it has carried out work of a wide variety of scopes within its specialties in a number of sectors, such as: law, agribusiness, food and beverages, architecture and decoration, automotive, civil and business aviation, beauty and aesthetics, consulting and specialized services, cosmetics and dermocosmetics, education, sports, pharmaceutical, hospitality, incentives and events, writing instruments, fashion, ophthalmology, dentistry, pulp & paper, petrochemicals, resorts & spas, insurance, retail, travel and tourism.
How long has SONNE been in the market and how many projects has it developed?
SONNE was established in 2009 and has been headquartered at the same address since then. In this decade of existence in the market, it has developed more than 80 projects for companies of all sizes and market segments, totaling over 100,000 hours of consulting services provided in strategic planning focused on its specialties.
What does the name SONNE mean and why did the company adopt the colors blue and gold?
SONNE means SUN in German – the origin of the surname of the company's founder and of his ancestors who were from Bavaria, Germany. The colors blue and gold used in the brand and institutionally in the company's communication unconsciously evoke images and projections of success, wealth, seriousness and intelligence.
Questions about solutions and results
THERE IS NO PRIVATE COMPANY THAT SUSTAINS ITSELF INDEFINITELY IN THE MARKET WITHOUT GENERATING PROFIT.
Understand SONNE's work in practice, how we conduct our projects and achieve measureable results.
Which services does SONNE offer?
SONNE offers the six different types of specialized services presented on the website's "solutions" page and detailed in the downloadable brochure. There are three types of strategic consultancy – one in the "immersion" format, the second "on request" / "made to order", and the third, which we define as "complete". What essentially distinguishes the consulting modalities are: the amount of time involved, the scope in terms of specialties and topics covered and the investment amount. The implementation of the projects can be contracted under the three types of consultancy, as well as independently, i.e. for the execution of existing plans. There are also market research and business diagnostics services, as well as lectures and mentoring by our founder and CEO – https://www.linkedin.com/in/maximilianotozzinibavaresco.
What is SONNE's modus operandi to deliver its solutions in consulting services?
SONNE's modus operandi, or 'how it operates', can be defined based on two concepts in LEAN – which is the basis of AGILE; and SYSTEM DYNAMICS. This in practice means that we seek to minimize risks while pursuing measurable results and maximization of the value perceived by customers throughout the entire process. We deliver each initiative in the shortest possible time and our recommendations and judgments are based on the ecosystem to which the company belongs and on the company itself as a whole.
What is the amount of investment required for each solution offered by SONNE?
The investment value for each solution offered by SONNE varies based on some very objective criteria, namely:
– Time (linked to the number of hours allocated and in days, weeks or months of the project)
– Complexity (linked to the number of variables and time horizon of the scenarios contemplated in the project)
– Difficulty (linked to the effort and necessary initiatives throughout the project)
– Scope (linked to the number of specialties and the respective themes covered in the project)
– Risk (linked to the division between fixed fees and the potential for variability of compensation in the project – when previously agreed)
At SONNE, each commercial proposal is customized and presented based on this set of criteria to be validated and approved by the customer prior to the start of any project.
Which SONNE solution is the most appropriate for each company?
We recommend to all customers that they contract a diagnosis that will provide an understanding of the needs of each company and, consequently, the most appropriate SONNE solution for that company. Nevertheless, we can make our recommendation based on the initial conversations with the company's partners, CEO and directors while adding to the requirements and any problems presented to us our expertise and history in dozens of other consulting projects.
How long does it take for SONNE's projects to begin to generate practical or measureable results?
SONNE's projects begin to generate practical results as of the very first meeting since our consulting work challenges the status quo and drives the people involved to leave their comfort zones with each and every meeting we hold. Methodologically, more and more people wind up being impacted by the process, the analyses, actions, decisions, etc. and a virtuous cycle of transformation and professional and business growth is established. Measurable results do not take long to appear and, most certainly, variations in performance indicators are directly linked to the involvement and engagement of partners, CEO and directors in the project. In general, results above the expectations and history of each company appear between nine and 12 months of project advancement, but no warranties are made due to imponderable and uncontrollable issues beyond the control of both SONNE and the customer.
Questions about customers and about expectations
EXPECTATIONS AND REALITY MUST GO TOGETHER; ALWAYS.
Understand why customers choose SONNE and what to expect of our work, clearly and objectively.
What can I expect of SONNE throughout the execution of consulting projects?
• Utilize exclusive and proprietary concept, methodologies and tools
• Challenge myths, truths and paradigms held by your company or your industry
• Distill your company's vocation
• Understand the whys and wherefores
• Identify the assets, drivers and leveragers, gaps, competencies, strengths and weaknesses, and their correlations
• Propose clear and logical strategic moves
• Conjecture non-linear theses regarding the past and the present
• Construct future scenarios and apply judgements amid the uncertainties and complexity inherent to any strategic planning
• Make clear and objective recommendations regardless of the consensus
• Act in an independent manner and without conflicts of interest
• Approach and address our reflections in a manner that is systemic, extrapolated and free of biases
What SHOULDN'T I expect from SONNE throughout the execution of consulting projects?
• Hire other providers of services on behalf of your company
• Perform co-management of your business
• Provide any type of individual feedback on their performance in the company to partners and executives
• Audit and supervise result indicators
• Teach to or know more than you and other company executives do about your company and the market in which it does business
• Debate issues regarding themes related to micromanagement or other technical themes associated with your business
• Perform routine, tactical and operational activities related to your business
• Make decisions for you on behalf of your executives or third parties
• Negotiate or be paid for any type of activity apart from our commercial proposal and detailed in our contract for rendering of services
• Raise or capture direct or indirect investments for your company
• Allow any interference with regard to our proprietary concept, methodologies and tools – including, but not limited to, third parties and other consultants
What characteristics do most of the companies that hire SONNE have in common?
The characteristics most companies that hire SONNE share are related to aspects of the company and its leadership. They are, in general, medium and large family-owned companies which are between the second and third generation of owners, or multinationals. In either case they have, in the leadership role, partners, a CEO and directors with full autonomy to decide on the hiring of specialized services, without the need for justifications or choice determined by international companies / international headquarters.
Why do the partners and executives of a company choose to hire SONNE instead of an international consultancy?
The partners and executives of a company choose to hire SONNE because they are not willing to pay astronomical figures to hire one of the big consultancy firms. And they identify in SONNE's work a relationship of mutual trust, in addition to greater quality and depth than would be delivered to them by an international consultancy.
How much time is demanded of the partners, CEO and directors involved in a SONNE project?
The amount of time that the partners, CEO and directors are required to devote to a SONNE project varies according to the solution contracted and the scope of each project. In general, since our projects work under an agile and systemic model, and since we have methodology applied from the beginning to the final delivery, the project leaders and sponsors must keep in mind that they will need to invest from 1.5 to 3 hours per week in meetings and activities in which they will necessarily participate in the case of "complete consultancy" and "on request" / "made to order" consultancy modes. Immersion projects generally require two full days for the retreat and another day for the workshop to conclude the work.
Do I need to structure anything in terms of strategic planning or to have completed any strategic planning in the history of the company before I hire SONNE?
NO. It will not be necessary to structure anything in advance in terms of strategic planning, nor to have completed any strategic planning in the company's history. The vast majority of companies have no expertise and have never hired a strategic planning consultancy. In most cases, we are confronted with a financial model or a budget that is itself considered the company's strategy; and in many cases not even that exists in a structured and implemented form. Therefore, we are used to taking everything from ZERO.
Do I need to have a company executive responsible for strategic planning to hire SONNE?
NO. It is not necessary to have an assigned professional responsible for strategic planning in the company. What is fundamental, and we will not do without, is that the partners, CEO and directors be involved – not all at once and all of the time – and there may be a central figure to head the project. There is also the role of project leader which will be assumed by the person responsible for interacting daily with the SONNE project leader to make things happen according to the methodology and the scheduled weekly activities. These are the only two mandatory figures in any SONNE project within the client company.
Who are the people who decide to hire SONNE and their main objectives within the company?
Owner, founder or heir
– Increase EBITDA and profit
– Ensure revenue growth
– Perpetuate the brand and the company
– Plan the future of the company
– Professionalize management
Executive manager – C-level or director
– Increase EBITDA and profit
– Make their mark in the history of the company
– Ensure results for shareholders
– Plan the future of the company
– Strengthen or create an organizational culture
Marketing, branding or sales manager
– Increase market share and revenue
– Increase awareness of the company's brand
– Ensure ROI
– Plan sales and marketing campaigns
Human resources or people & management manager
– Attraction, retention and talent development
– Organizational climate
– Individual and team performance
– Career path
– Purpose, values and principles
Research, market intelligence or innovation manager
– Structure, disseminate and preserve the company's knowledge
– Analyze and supply other areas of the company with data and information
– Create and implement innovations that produce results
– Analyze and understand market trends
– Analyze and understand the behavior of customers/consumers
What is the best way to contact SONNE?
You can contact SONNE via the contact form available at the bottom of all pages on our website, and you can call or contact us on WhatsApp at the same number: +55 (11) 3093-9191.
São Paulo
+55 11 3093 9191
Rua Diogo Moreira, 132, 10º andar, Pinheiros
05423010 - São Paulo, SP, Brazil
Chermayeff & Geismar & Haviv 137 East 25th Street, 7th Floor
New York, NY 10010